Self-ligating braces are made from the same materials as traditional braces; however, they do not require the use of elastic ties, which means fewer appointments and less friction placed on the tooth.
Self-ligating braces come with traditional metal or ceramic and clear brackets. They are the same size as metal braces, but with more options, they can provide a more aesthetic appearance, particularly for adult patients.
How do self-ligating braces work?
Self-ligating braces use a specialized clip in place of elastics to help the archwire guide teeth into place. The clip reduces the amount of pressure on the tooth and decreases the number of adjustments because there are no ties to replace. Less friction means half the force, no tightening, less discomfort, and faster treatment.
---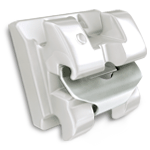 Your choice for a beautiful smile
We happily offer our patients Self-ligating braces System Braces
In-Ovation is a new and technically advanced system that can give you the radiant smile you have always wanted more quickly than traditional braces, and without the need for ugly, unsanitary, and uncomfortable ties or elastics.
Best of all, there's never a need to have your braces tightened! Using light, gentle forces, In-Ovation makes the path to a beautiful smile faster and more comfortable than you ever thought possible!

Traditional Braces
Elastics and ties used in older braces put pressure and friction on teeth, which slows treatment and causes discomfort.

In-Ovation
With the In-Ovation R system, teeth are free to move more quickly, easily, and comfortably.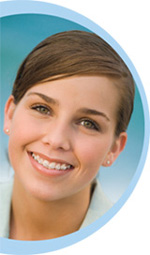 A Beautiful Smile is Fast and Easy!
With In-Ovation, you can achieve amazing results faster: often, depending on your treatment needs, months sooner than with other braces.
With In-Ovation You Can Have
Faster results
Shorter appointments
Fewer office visits
Greater comfort
Improved facial proportion and appearance
Learn more about In-Ovation on its website at www.gacinovation.com.